A personal approach to Emergency Care
Unfortunately, most of us will encounter an emergency situation at some point in our lives. Are you prepared to respond?
Attending a Medic First Aid training class is the first step toward learning how to help ensure the safety of your family, friends, and co-workers. Our classes are taught by experienced instructors. Our training programs follow the most up-to-date medical guidelines and are recognised throughout the world as meeting regulatory safety requirements for workplace safety and health.
Our proven instructional design facilitates a low-stress, student-centered learning environment. A unique blend of "seeing, hearing, doing, speaking, and feeling" ensures your comfort, confidence, and skill mastery.
We have strict quality assurance procedures and benchmarks to ensure our programs meet appropriate medical, educational, and customer service expectations.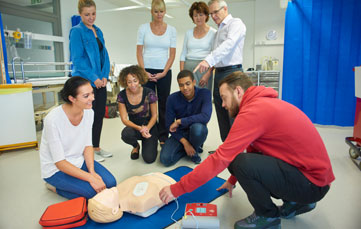 It's never too early to get trained in emergency care.
Contact Us for more information on our courses or a quote from our friendly administration team