October 10, 2018 at 9:24 AM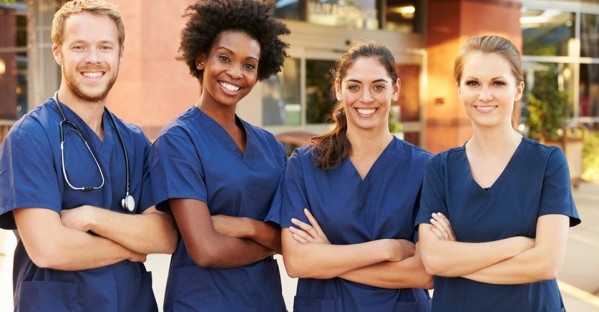 In recognition of Emergency Nurses Week, October 7-13, 2018, today's blog post looks at the vital role these highly trained professionals play in responding to medical emergencies.
As described on EveryNurse.org:
Emergency nurses are known by many names, including trauma nurses and critical care nurses ... Emergency nurses, along with other emergency medical professionals, are required to work in fast-paced and often stressful environments ... Some of the most common settings for emergency nurses include hospital emergency rooms, triage centres, urgent care centres, and trauma centres. However, as an emergency nurse, you will also usually be able to find employment with clinics, emergency response units, poison control centers, prisons, and even the different branches of the military ... Working as an emergency nurse can be nerve racking and emotionally rattling. It also requires you to work insanely long hours in an environment with a hint of danger, due to the fact that you are exposed to a number of different types of pathogens and patients.
An emergency nurse may need to employ any or all of these skills on any given shift:
starting intravenous lines
administering medication
transfusing blood
first aid
cardiopulmonary resuscitation
rescue breathing
bag-valve-mask ventilation
intubation
tracheotomies
suturing
setting broken bones
delivering babies
This year's Emergency Nurse Week theme is "EmpowerED." The Emergency Nurses Association asks their members to consider what that means for them:
For some, it's about furthering their education. For others, it's advocating for the profession. No matter what being EmpowerED means to you, please join us in celebrating emergency nurses everywhere this October.
The association offers a planning guide to help hospitals and other employers recognise and celebrate these important members of their teams. If an emergency nurse has impacted your own life, why not drop them a thank-you note this week?
MEDIC First Aid Training Centres: If you're interested in expanding your offerings to include teaching CPR, AED, and first aid to help satisfy the continuing education or certification requirements for emergency pre hosptial care & first aid please click here to request more information on how we can help you achieve this goal.
For information on Nursing careers in New Zealand
http://www.nursingcouncil.org.nz/Education/How-to-become-a-nurse
Blog Sources


Comments
Leave a Reply